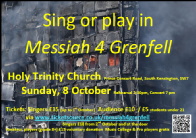 Messiah 4 Grenfell background
The unimaginable awfulness of the Grenfell Tower fire shocked the nation as much as any international disaster – indeed perhaps more so for it being right here, in London.
Following the thousands raised by Messiah 4 Haiti and Messiah 4 Philippines, the Concerts from Scratch Messiah edition conductor/editor David Meacock has decided to do Messiah 4 Grenfell, for three reasons. Please click on the image to read on, on p. 2 . . .
And HERE for David's concert programme introduction and soloists' biogs.
A40 Choir total so far raised for Grenfell Tower survivors exceeds £6.5K
Following the success of Messiah 4 Grenfell in October 2017, as well as 2018 and 2019 events, we have together now raised in excess of £6.5K to help survivors of the Grenfell Tower fire via the Family Action Charity.
All Sing-ins have been in Holy Trinity Church - known as the Promers' church as it's just opposite the Royal Albert Hall which hosts the BBC Promenade Concerts - accompanied by Tim Roe.
Family Action's new Grenfell Community Service is providing long-term emotional & practical support.
Click HERE for Family action CE's thank you letter following the first Messiah 4 Grenfell.
PRESS RELEASE: Messiah 4 Grenfell raises nearly £6K
Click HERE for full press release with background notes.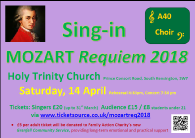 A survey of Messiah 4 Grenfell participants chose the work and expressed the wish to maintain a charitable element for future events. While professionals can't keep proffering their services for free - as there is no reward of a free pass for the proverbial supermarket checkout! - fees are kept to a minimum.
After a canter through the Requiem, the concert kicked off with the four soloists - Ilona Domnich (soprano) Lindsay Bramley (contralto), David Meacock (tenor) and John Lofthouse (bass) - accompanied by Tim Roe delighting choir and audience alike with contrasting favourite arias.
Mozart's Requiem always inspires and we were all left looking forward to making music together again just after the Proms, in September, singing British Choral Favourites.